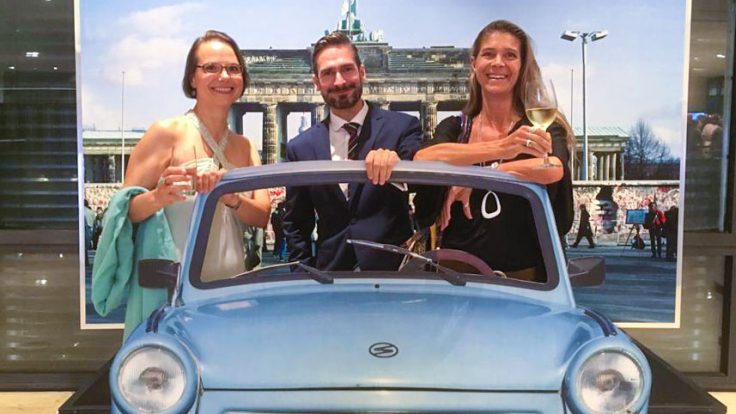 HOW DO YOU "TEACH" THE DAY OF THE GERMAN UNITY?
Historical events generate different narrativs and claims to the interpretation sovereignty. When dealing with historical events one necessarily relies on existing sources and, inevitably, makes a selection of topics and perspectives, which in fact carries the risk of manipulation of the audience.
Therefore, it was very important to us to have as many contemporary witnesses as possible on the Day of German Unity.
The project day on the 3rd of October, in which classes 7-10 took part, was organized by our Consul General Dr. Wallat. The students eagerly listened to the vivid stories and events that they had experienced on this day. Before the opening classes 5 and 6 sang the school anthem accompanied by Ruben Viertel.
Imagine a 16-year-old girl from Cologne and a 16-year-old boy from the GDR who had met in 1987 in Prague. They exchanged their addresses and from then on they wrote letters in which they shared experiences on either side of the border. These fictitious letters with episodes from the lives of the two teenagers were read on the small stage of the library.
During the summer holidays, our teachers had organized an interview with a contemporary witness from the Center for Political Education in Berlin.
Today it was time. The students had prepared themselves in history lessons on the subject. Everyone looked anxiously at the screen. Then something moved and the image of a 60-year-old man who first jokingly entered the conversation, appeared on the screen. Siegbert Schefke – He not only personally experienced the peaceful revolution of 1989, but also grew up in the GDR.
Of course, our students also had questions about his experiences as a teenager and his school days, Students had prepared by watching z.T. also from the movie "The Life of Others", which was shown the night before.
Peace doves with wishes for the future formed a visible conclusion of the project day.