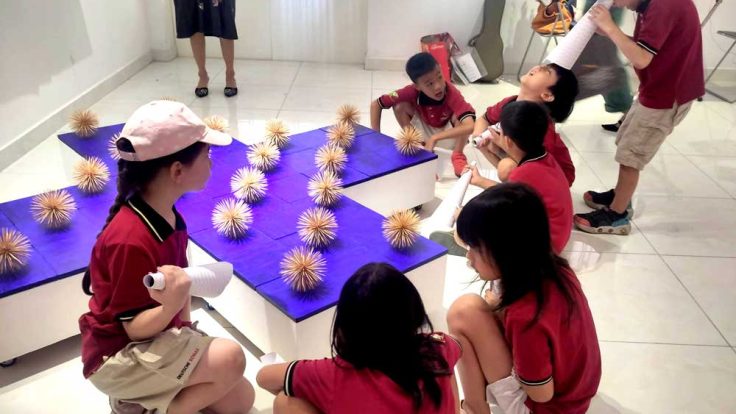 Last Friday, the class 2 students were excited to embark on their first art field trip. We were invited by the brilliant artist Yohei Yama to meet with him at his exhibition 'Resonate State' at the Vin Gallery in Binh Thanh. The children greeted Yohei with a big bouquet of flowers and then they were ready to explore. Class 2 have recently been exploring colour theory and surrealism, so they were ready with many questions and interpretations. We took time to look at the work from different angles and Yohei was happy to answer any questions they had. Their favourite part of the exhibition was his light installation, a white room with hanging eucalyptus leaves adorned with fairy lights. The children sat quietly and enjoyed watching the lights, they were then quite surprised when Yohei began to play music for them. They listened carefully and many of them decided to draw him and the paintings as they sat and observed. We finished our visit by sitting together in a circle, taking turns to play the instruments and Yohei kindly gifted each of the children with their own unique drawing.
We are so grateful to Yohei Yama and the Vin Gallery for their support.
If you would like to see 'Resonate State' the exhibition will be on display until April 28th. You can find the Vin Gallery at 35/8 Nguyễn Văn Đậu, Ward 6, Bình Thạnh.