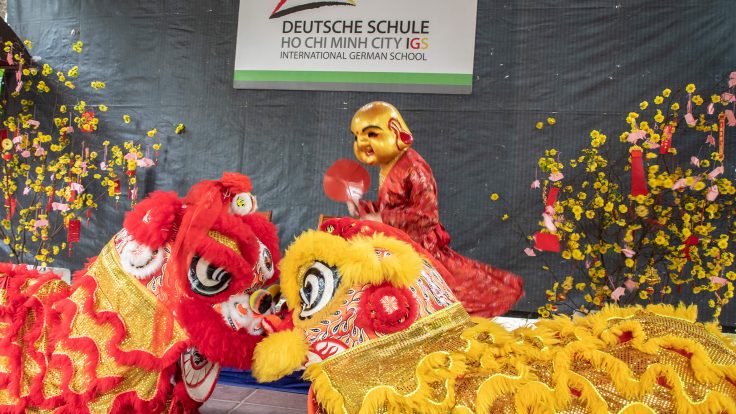 Vietnamese New Year at IGS HCMC
… the pig is said to be reliable, intelligent, patient and it appreciates traditions like the Vietnamese New Year Celebration.
At the German School in HCMC, pthe celebration for the New Year of the lunar calendar started with a traditional lion dance: several students had to coordinate their movements under the red-yellow lion costumes. Visitors wearing their festive Vietnamese national dress – the Áo dài – could be seen everywhere on campus.
In addition to the dance, the audience was thrilled by the singing of well-known Vietnamese songs, a play depicting the origins of the New Year cakes, as well as a percussion performance presented by students from 19 nations. (Cf. TV Contribution)
The Vietnamese wishing trees were decorated with yellow(apricot blossoms) and pink(cherry)blossoms, and origami pigs inscribed with wishes for the new lunar Year of the Pig were hung on the twigs.
The students had rehearsed for many weeks until they were ready for the performance.
A colourful life-sized pig was been produced in the art studio of the school. The lovely face of the pig reminded some people of a cute mouse.
In addition to the programme, the students had earlier drawn illustrations for lucky money envelopes, which were produced in cooperation with Pacey Cupcakes, our external partner for this project.
Chúc mừng năm mới