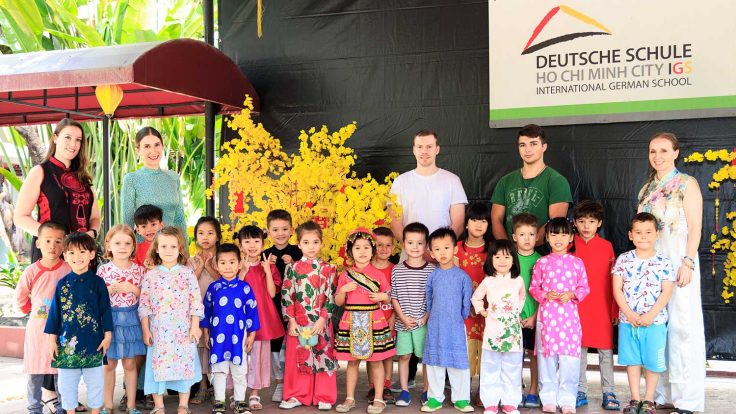 There is so much to do as families and schools prepare for the most wonderful time of the Vietnamese year. The U6 area also used Tết as a theme for two weeks of lessons and classroom activities. In kindergarten and preschool, everyone, including teachers and students, were busy preparing for the "Spring Festival" as the Tết draws near every year. In each group, teachers and children worked together to decorate their rooms, make bánh chưng, and prepare artistic works for the festival that help the children experience the real atmosphere of the tết. 
A special highlight was a trip to the flower market, where all the children could examine different flowers and plants for decorating houses on the occasion of Tết, e.g. peach blossoms, apricot blossoms and kumquats. What better way to learn about the Spring Festival than being surrounded by colorful flowers? 
It became more and more colourful in the groups. Homemade cats were hung up, Li Xi were folded, and fruit sculptures were carved. On Thursday, the children in the U6 area were even able to marvel at a lion dance that the students in the higher classes had rehearsed especially for this occasion.
With a colorful Ao Dai show and a traditional tea ceremony, all "Researchers" and "Discoverers" were finally released on Friday for vacation.