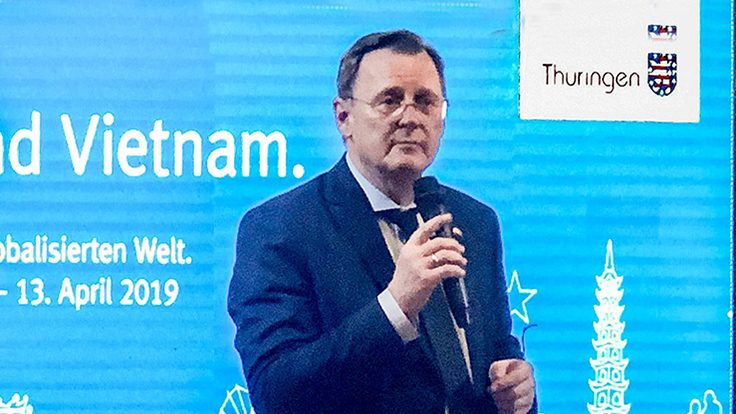 Minister President of of Thuringia in Vietnam
The delegation of over 100 participants visited various projects related to education and politics. Minister President Ramelow is a member of the party "Die Linke". A major focus was put on discussing options of recruiting experts from Vietnam who are proficient in the German language.
Currently, about 130 Vietnamese apprentices are studying in Thuringia. Ramelow's goal is to train 1000 apprentices per year. The prerequisite for this is sufficient knowledge of German. (B2) Thus, Minister President Ramelow showed particular interest in the language training programme at IGS.
In conversation with Udo Philippus, Head of Unit Labor Market and Vocational Training Policy, Headmaster Dirk Thormann presented the spectrum of language training on campus.
Dr. Claudia Hillinger, Head of the International Office of the Friedrich Schiller University, Jena expressed her interest to cooperate with IGS on the internationalisation of teacher training.
About 3000 people with Vietnamese origin live in the Free State of Thuringia, State Secretary Malte Krückels reported at a reception on the Indochina Queen.
The captain of the ship received great applause, when it turned out that he had completed his training in Thüringen before returning to Vietnam.