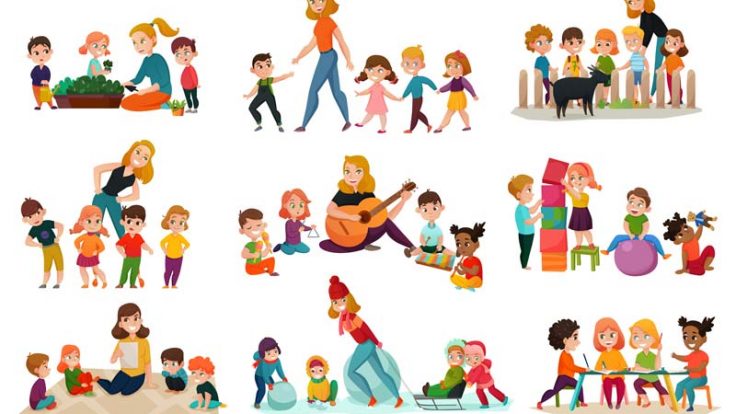 … now even more exciting activities!
The U6 section has decided to connect House D and House G even more through an innovation in the timetable. This enables the teachers to work in a more resource-oriented manner and not only improves cooperation among colleagues, but also results in an advantageous situation for the children. The children in both houses are given a wide range of opportunities in all areas of education, which is strengthened by the individual strengths of each teacher. This diversity is particularly beneficial for the acquisition of the German language. Naturally, the timetable will continue to be checked and adjusted regularly to ensure that the needs and performance levels of the children are taken into account.
Currently, all children can enjoy language games and stories with Ms. Julia, yoga with Ms. Michelle, arts and crafts with Ms. Lena and Ms. Denise and musical and rhythmic units with Ms. Kiefer. There is now also a joint end-of-the-week circle on Friday with all groups, as well as a joint morning circle for the two preschool groups. There will also be a few lessons that continue to take place within the individual groups. This allows the children to experience themselves as part of a fixed group and to get to know new things at the same time.
As with last week, we will focus on the topic of winter next week. This topic is also examined from the perspective of the respective funding unit.
However, not only the quality of individual support will increase as a result of this change. The children will now be given the opportunity to get to know all the U6 teachers equally well. This makes it easier for the younger children to move from house G to house D emotionally, and the "new" children can be integrated more easily into the group.
We are all very happy about this further development and are looking forward to getting to know the children of the other groups and welcoming them to the individual lessons.