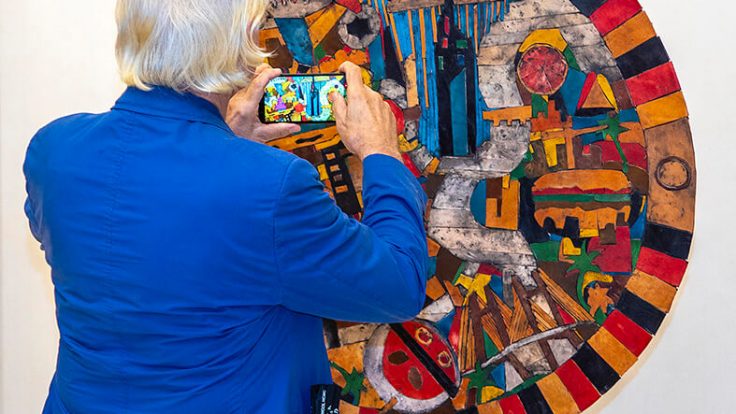 IGS bau-welt Vernissage at Deutsches Haus
On June 14, the Vernissage – bauwelt took place in the Deutsches Haus HCMC. About 160 visitors attended the exhibition of the International German School HCMC (IGS), which was also organized this year in cooperation with Deutsches Haus and the German Consulate General Ho Chi Minh City. Student works of the school year 2018/2019 were displayed.
Two TV channels and a newspaper came to report on the exhibition:
Vietnam has one of the most dynamic economies in the world. Investment in education, transportation, production and digital networks is fundamentally changing the social lives of people living in the cities. People develop their personality in the process of interacting with other people. Urban architecture decides to a decisive extent whether or not people meet: whether or not there are small street cafes, public transport, libraries or parks. People build and influence nature and themselves. The students of International German School HCMC (IGS) have dealt with the ecological footprints of urban architecture in art classes.   An important exhibit is a huge pangolin made of old car tyres: pangolins are among the Vietnam-based species that are threatened with extinction. At IGS the students learn about the unique nature of Vietnam in order to develop a sense of responsibility to protect endangered plant and animal species. They should also understand how they themselves are part of a sensitive environment.
That this also includes a private contribution is quite clear to everybody. Nobody just throws garbage on the street. Some students have decided to go to school by bike or deliberately use the school bus as their part in conserving a dying world.
Many artists have supported the various art projects this year. At IGS we are very grateful for the insights and the tools that have been provided.
The class choir of classes 4 and 5 accompanied by Matthias Mayr and Ruben Viertel opened the vernissage. Coordinated with the theme of the exhibition: Building – Architecture-Environment – Jan Hagenkoetter developed the musical backdrop of the evening.